Homemade apple sauce with cinnamon and honey.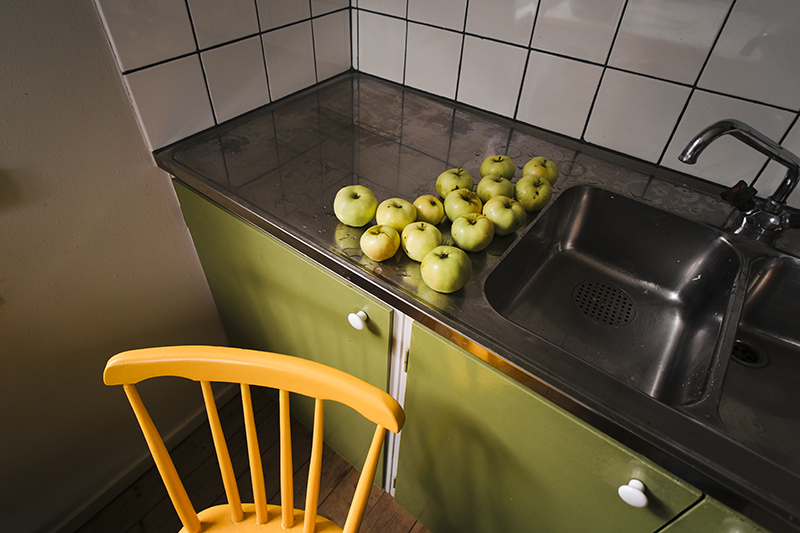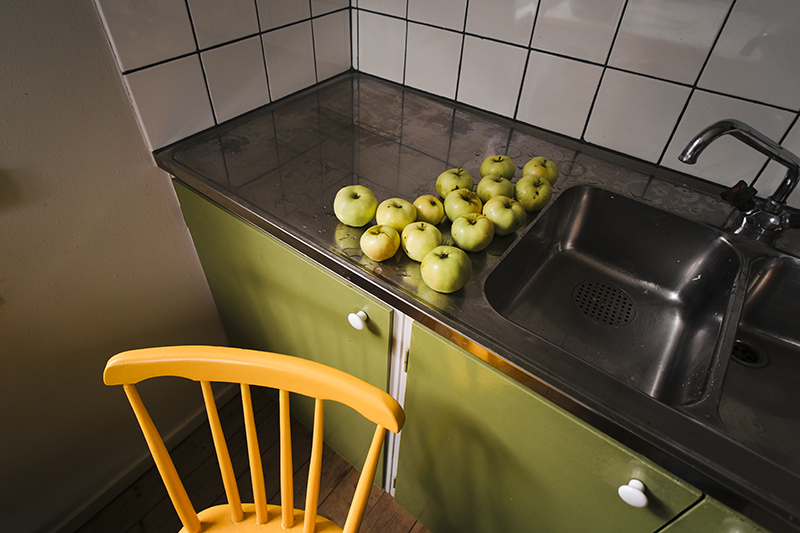 It's apple season!
After months of sunbathing, growing, and becoming sweet and juicy, the little apples from my garden are slowly getting ready!
Despite some sweltering weeks and a healthy amount of rain, about half of the harvest was lost already a month ago. I'm anything but a specialist so I can only guess why, but many apples just turned brown and fell off. Luckily, the trees were full of fruit, so even after a few rounds of picking there will be enough left for the wild animals.
The tricky thing is knowing what and when to pick for the most delicious taste and best harvest.
Some things to keep in mind:
– There are summer, autumn, and winter apples, and this determines when they should be picked and how long you can preserve them after picking. Summer apples can be eaten right away, winter apples need a bit of rest to get their best taste.
– When ripe, the seeds are very dark brown, the skin transforms to a warm yellow and/or red blush, they feel firm and crisp (not too hard) and it becomes easy to gently pick them from the tree. If you're too early, the apples will be tart, small, and lacking color.
– If you want to store your apples, leave some
– For late varieties, a slight frost is fine, but be in time before they fully freeze because then they won't store well.
My apples were,… let's say on the edge. That's why I only made a small batch. Rain and colder weather are on their way and the bad weather (and wildlife) makes the chance of full ripening uncertain. In most apples, the seeds were ready, but the flesh could have used a bit more time to get a fuller taste. So the next few days and weeks, I'll be keeping an eye on my trees. If I'm lucky I'll be picking red-cheeked apples up till late October, if I'm out of luck, the green ones will just turn brown and rot.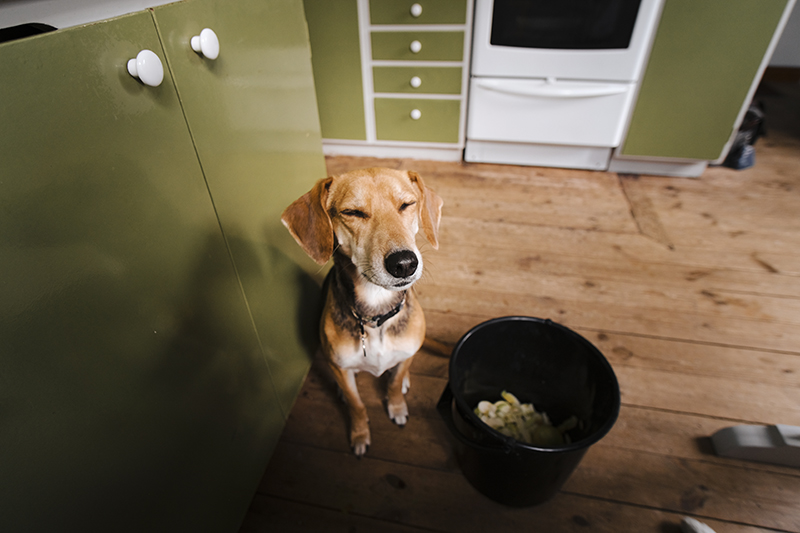 Apple-loving dog in need of a juicy treat.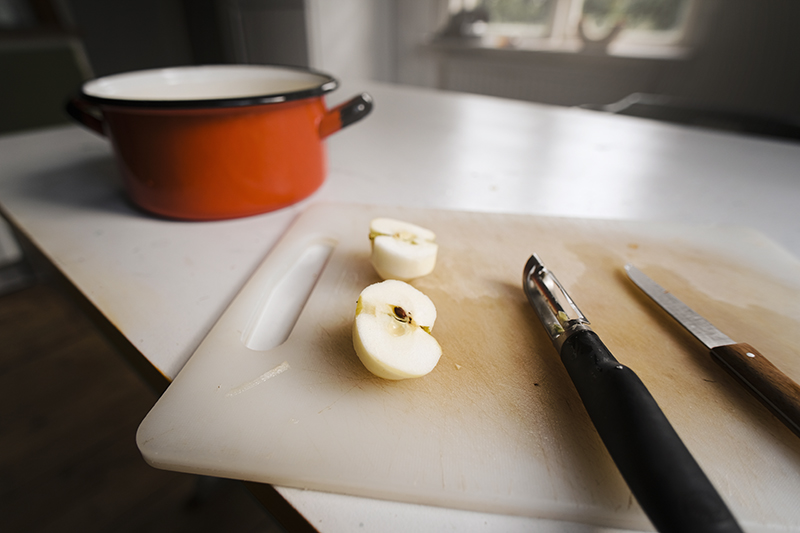 Tiny apples, lots of work but nice dark seeds and cream-colored flesh.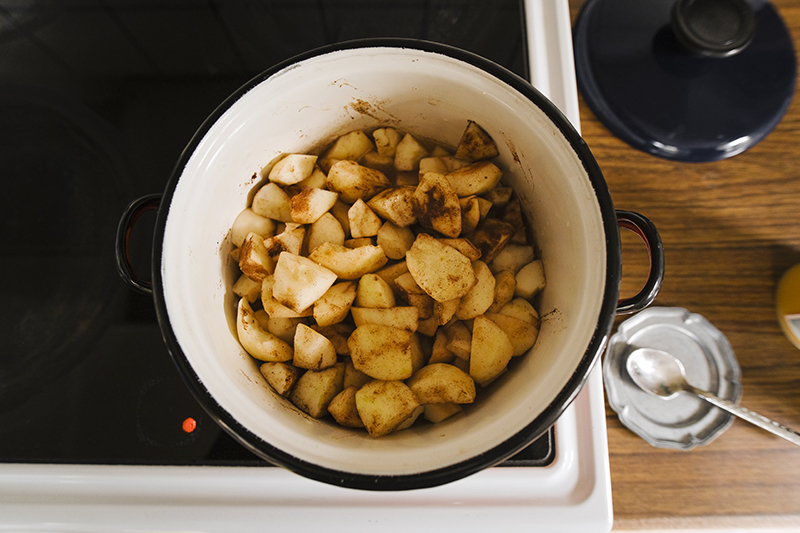 Let the cooking begin!
Ingredients:
– Fresh apples
– Honey (I don't react well to sugar so I always use honey)
– Spices: cinnamon, cardamom, clove, vanilla, and ginger –> normally I mix it myself but my mom got me a super delicious spice mix from Pit & Pit so I only added extra vanilla.
– A bit of water.
I let the apples stew on low heat for a few hours and regularly stir until they are completely soft. I know you can mash it all too, but I like it this way because the sauce gets the time to fully absorb the spices and the result is a nice mix of smooth sauce and some small pieces. I don't often cook, but if I do, there will be no hurry 😀
And oooh that scent of autumn, and sweet nostalgia!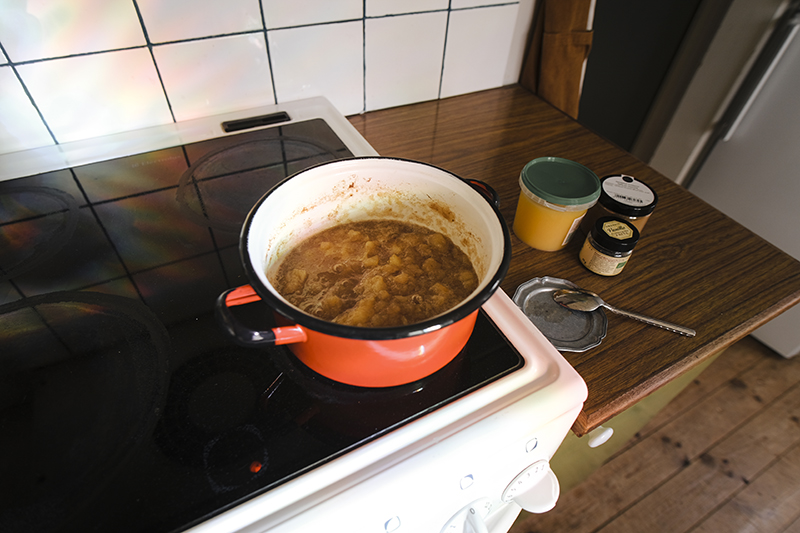 Being sweet and with lots of autumn flavors, this sauce works best for pastries like 'appelflappen' and desserts.