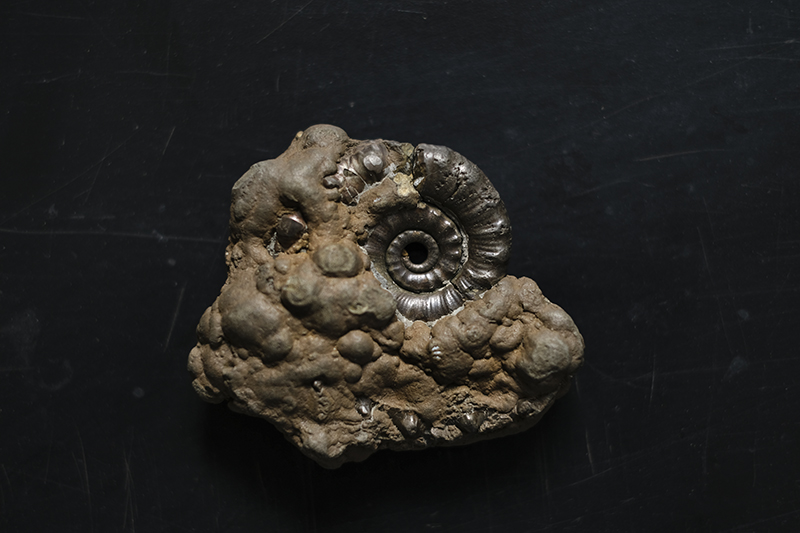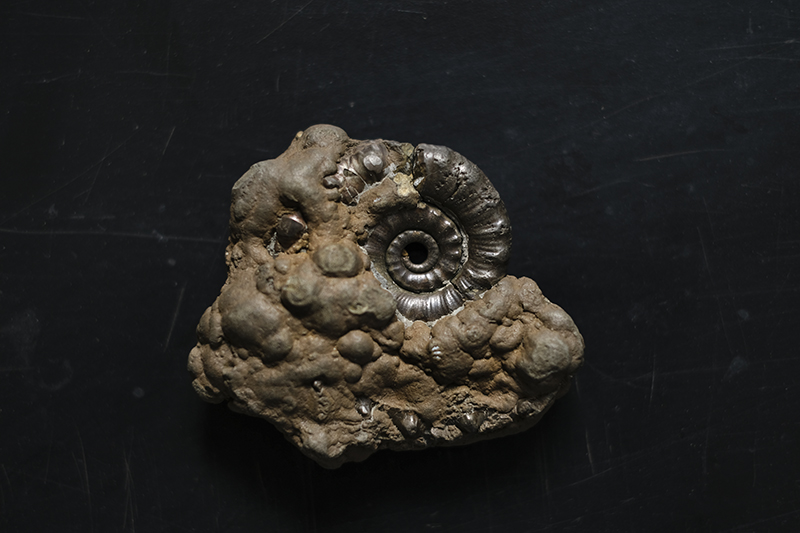 My main goal in traveling to England's Jurassic coast was to search for fossils like ammonites, Belemnites, and Ichthyosaurus vertebrae. And yes, I chose the word 'search' rather than find for 2 reasons: 1) I love searching in itself, and 2) there was no guarantee that I would find anything.
Of the ammonites (the main find I was hoping for) a few crossed my path. All were the dark pyrite versions and in different sizes between 0,5cm and 5 cm. The one above is the biggest that I found-but it's partially covered. This type of fossil, however beautiful I think it is, might not last very long. That might sound a bit strange since I picked up this fossil of a species that died out about 66 million years ago, isn't it?
The original creature that was swimming around, wasn't made of pyrite, of course. This process, called pyritization, can happen to dead ammonites buried in sediment saturated with iron sulfides. These sulfides are produced by decaying organisms and can react with iron to form pyrite (FeS2)– and this slowly takes the place of calcium carbonate from which the shell was made. Once released from the sediment by mudslides and seawater, this pyritized fossil will start to oxidize and slowly disintegrate.
[PS: there are other kinds of fossils that were formed by a different process, but I did not find any of those.]
In a few years, they might turn to dust.
It is possible, however, to slow down or stop this process by sealing the pyrite- and I hope I have used the right products to do so. I might find out later.
Before I sealed the fossils, I took a few photographs and painted one. It's going to be added to the Rock-star collection that I will be showing this summer. Technically, it's not a rock, but neither is the slag stone. My collections are open to diversity 🙂