Leathercraft practice: passport wallet and card holder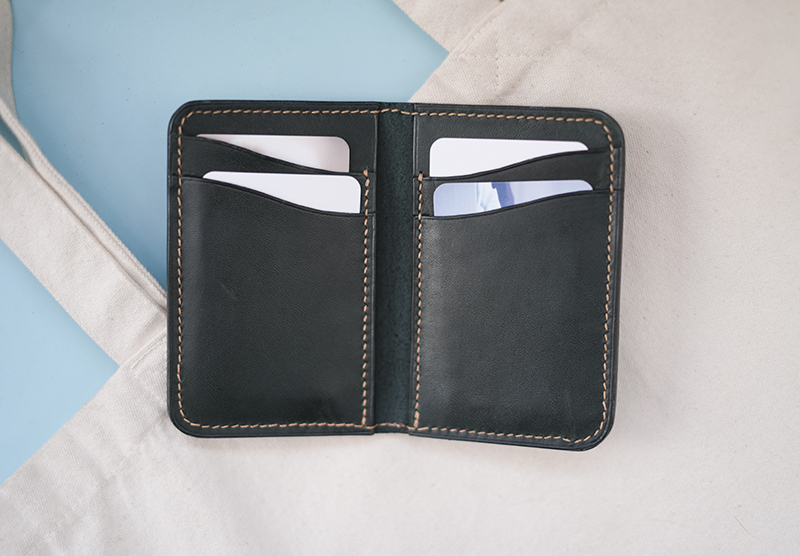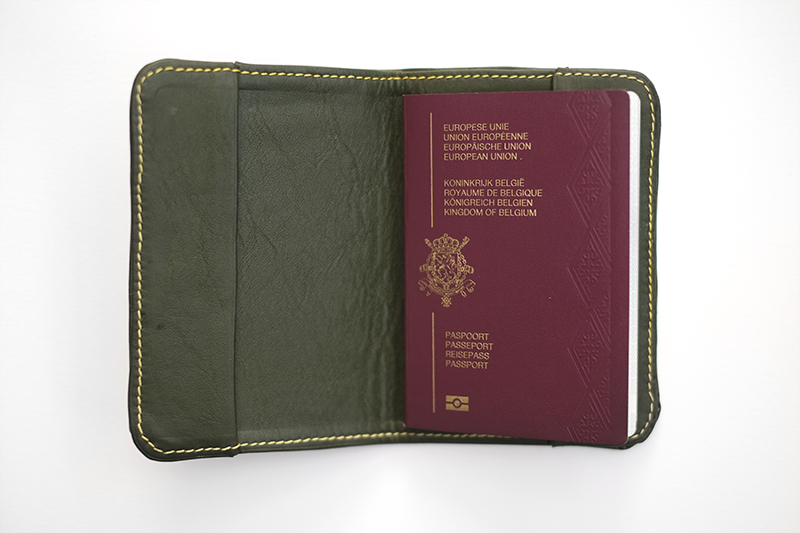 A few weeks ago, we drove north to a local tannery that also has an outlet shop. Not sure what to expect, I was completely overwhelmed with the amount of choice- and I learned that it was indeed rather unusual for them to have so much to offer at once. Good that I had a maximum budget in mind before entering the shop or I would have been completely lost and broke! 🙂
At least all the time that I needed to make decisions provided Joeri with enough time for a refreshing nap (we had left early in the morning).
Color is always the first thing that attracts me but I had to remind myself a few times that finding some leather of a certain thickness was my main goal. With the small bits that I had ordered before, I missed leather of 1.5mm or thinner. But I was prepared! With my thickness gauge in hand, I measured the hides that looked like nice options. I chose 2 different types of green leather with different kinds of textures and stiffness so that I could try both. Except for that, I also fetched some smaller bits in brown, blue, and wine red.
The first project with the new leather- kinda stressful to start a new/larger piece- was the passport wallet in the picture above. This moss green leather is rather soft and souple and Instagram voted for the color of thread- choosing a happy yellow. The design of the passport wallet is by Philip Jury and it is an exercise in turned edges- meaning no edge paint or waxing but a lot of skiving. It was a huge struggle! The leather was perhaps a bit too stretchy and my technique for hand skiving was still clumsy so in the end, to make it work, I used the French edger to get the job done. As a printmaker, the French edger feels more natural as it resembles linocut or woodcut gauges but it's challenging to have an even and thin surface. Sometimes I feel like a toddler smashing crayons against a wall while Philip Jury works so smooth and elegant 🙂 🙂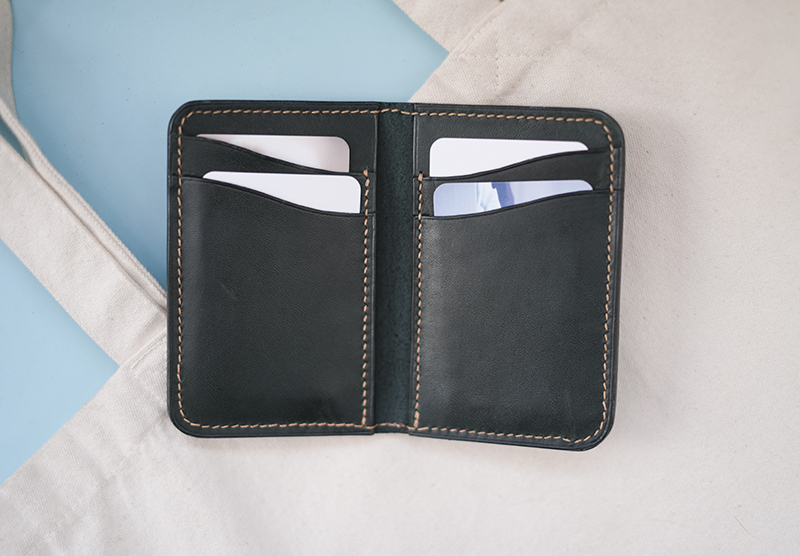 Next in line was a card wallet designed by Stock and Barrel. My plan was to have a skiving-free project after the struggles of the passport wallet- but I think I ended up skiving even more haha! This dark green leather, however, was stiffer and thus much easier to skive. Oh, what a relief!
In this last project, creating the stitch marks and crease lines for rounded corners already went a bit smoother and I made fewer mistakes. Joeri immediately wanted one of these wallets too 🙂