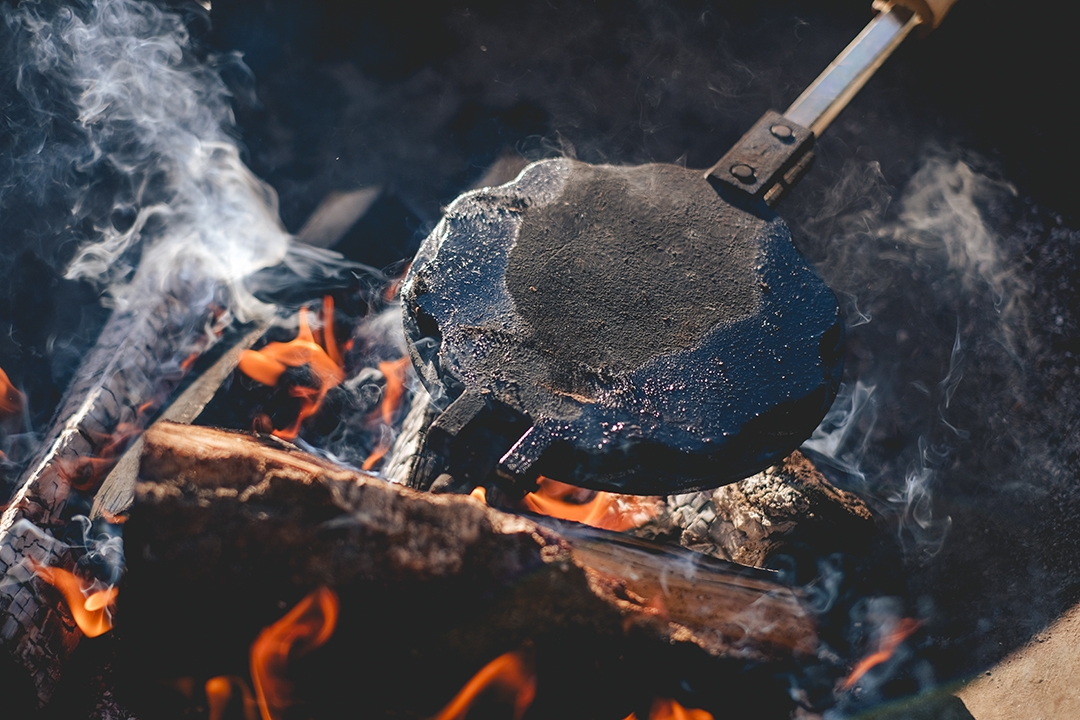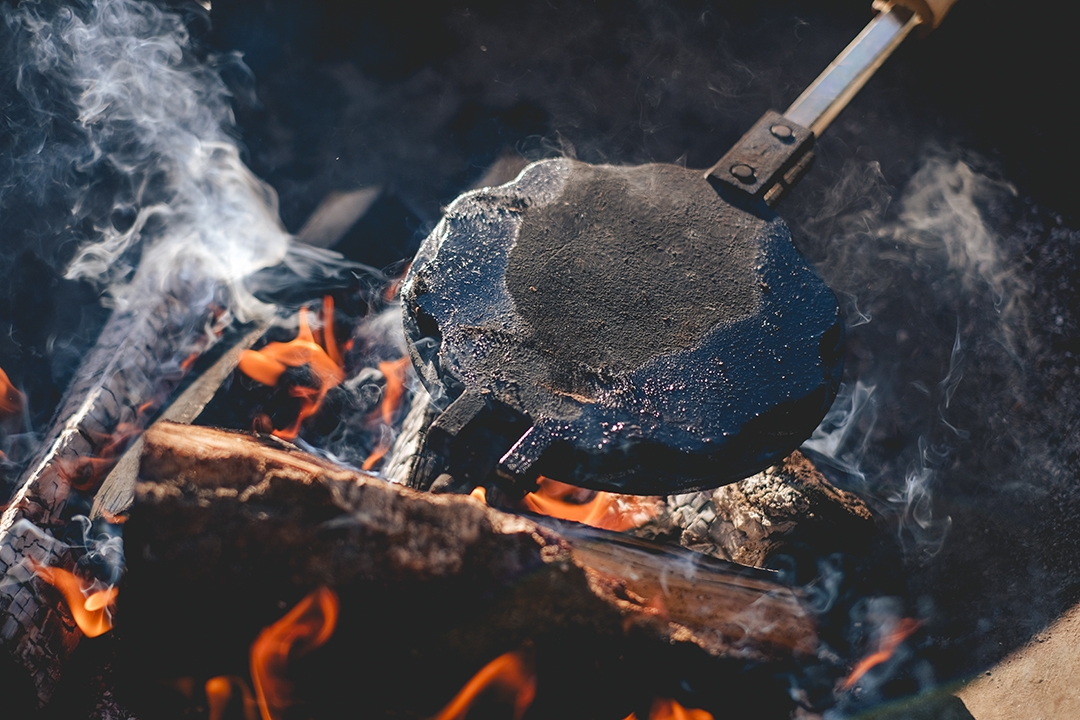 100% autumn hygge.
There is always something special about trying something for the first time, and this experiment, we wanted to share with friends. This beautiful and sunny autumn day seemed perfect for a last-minute fika-invitation :-).
Oil or butter, seasoning or no seasoning, putting the cast iron in the fire or above, we didn't have a clue at first on how to bake these waffles. But with some trial and error, we went from charcoal hearts to delicious heart-shaped waffles.
As a Belgian, growing up in waffle-land, I find these charming hearts a great addition. The beauty is that every kind/region/country has its own taste, texture, and shapes and I love mixing our cultural influences. This way we are also able to create new memories that differ from the nostalgic excitement of when my mom made waffles at home or the extra-large Brussels waffles that we ate when visiting the Belgian beach towns. They are even different from the type of waffles that my friend and I took with us when we went away for the weekend (oh, Center Parcs memories!).
In Sweden, the waffles are mostly made without yeast, making them thinner than, for example, some Belgian waffles. Most of the time, they will be served with jam or fruit and whipped cream (not the sweet type) or ice cream. We had a blueberry jam, honey, coconut sugar, and chocolate ready, but I just ate them like this. In good company, with the autumn sun, and a warm crackling fire, one doesn't need much more 🙂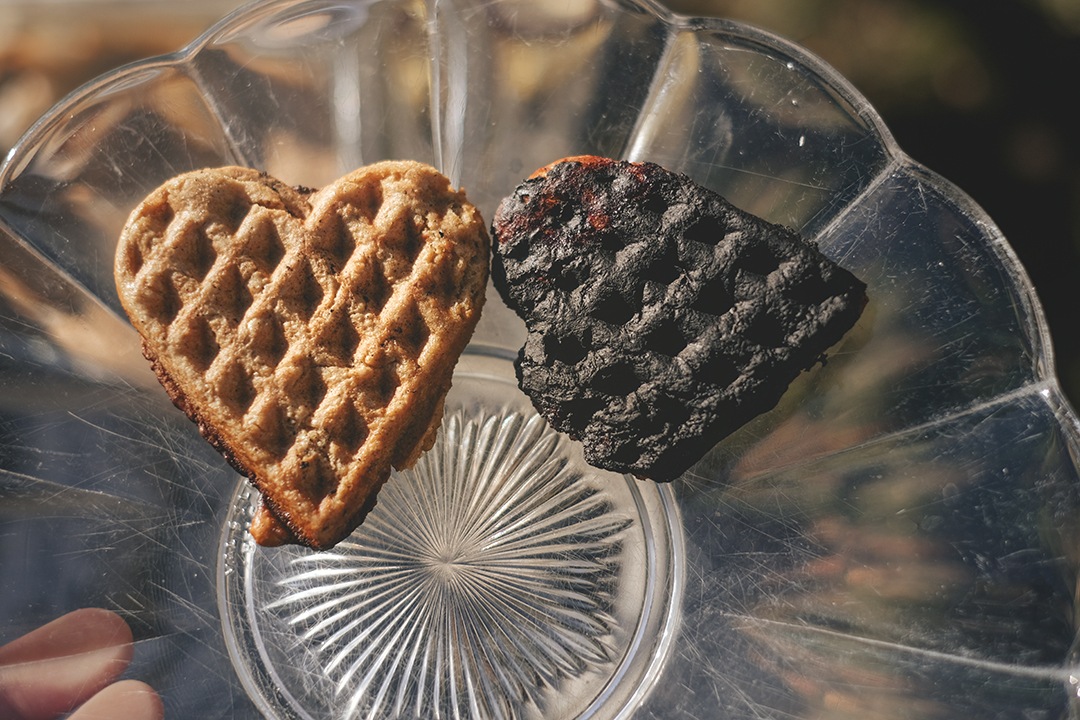 For the recipe, we used a firm dough as we were unsure if a more liquid type would slip through into the fire – we wouldn't want that, right? Since the cast iron gets super hot and it takes some time to put the dough in, it might be easier to make it just a bit more liquid.
Ingredients
120gr oats (I read that  this is an ingredient often used during war times, but not so common now)
10 tbs coconut sugar
2 tbs honey
150 yogurt
1 tbs oil
2 eggs (can be replaced by egg replacer or 1 banana)
2 tbs cornstarch
1 tbs baking powder
1 tsp vanilla powder or extract
Take all the ingredients and blend them all together into a smooth dough. Heat the waffle iron in the fire and take it out when hot.
Pour in a little bit of oil in the iron and add a tablespoon of dough for each waffle heart. Close the iron and wait (we needed about 2 minutes). Control the temperature if you are working without a thermostat. Too hot and the waffles will burn, too low and they don't bake. Place one side in the fire and you get half charcoal and a half soft waffle 🙂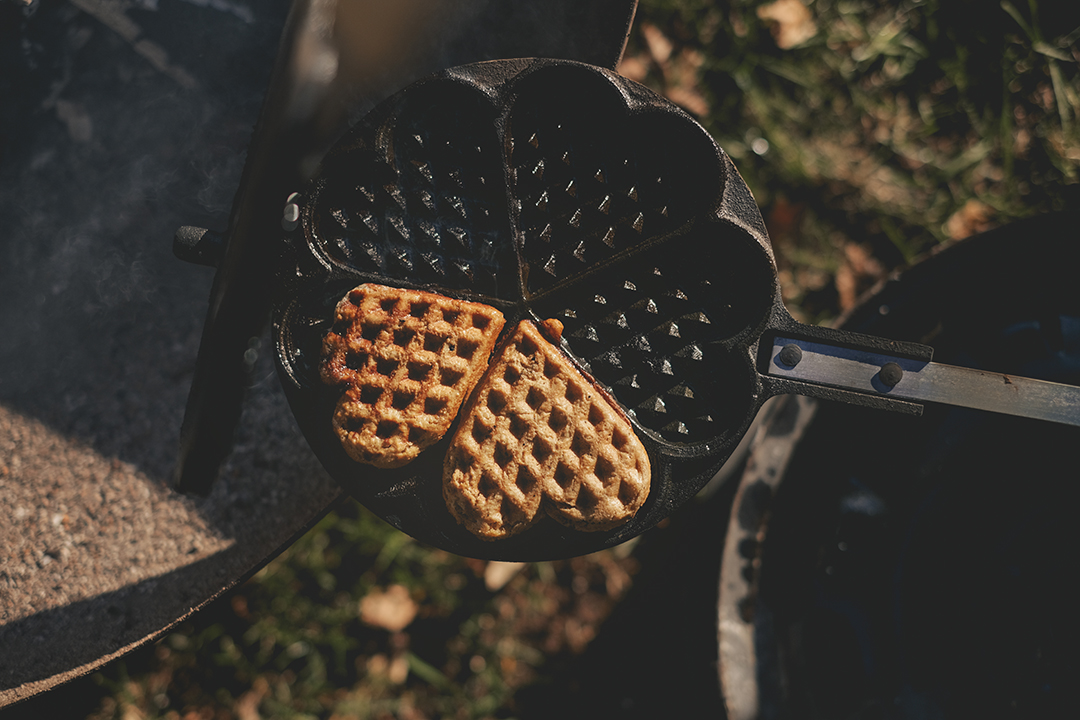 By the way, did you know that on March 25th, it's Våffeldagen (waffle day) in Sweden? I think we have to add that to our calendar! Earlier this week I got a recipe from my aunt based on the way my grandparents made waffles on a 'Leuvense stoof' (= some kind of old cast iron stove) so we will definitely try that one too!