Leatherwork practice: pencil case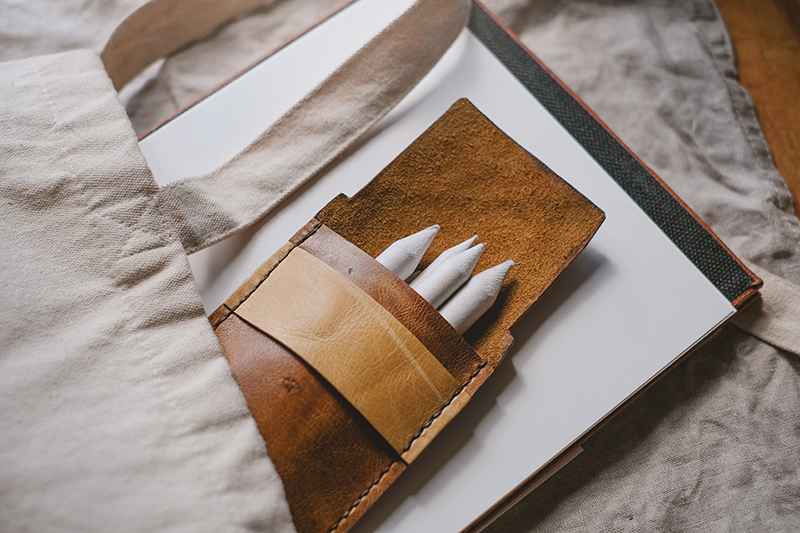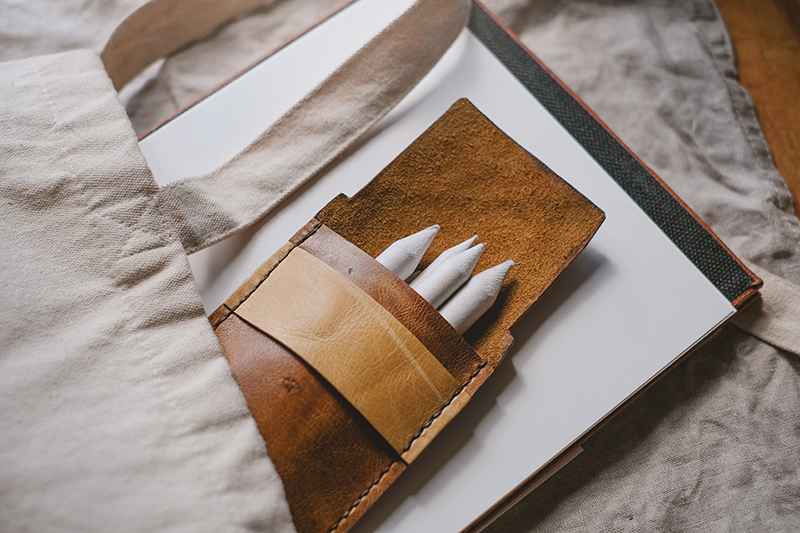 These blending sticks came in an annoying crackling bag + I had some stitching to practice, so I made a new case for them 🙂. Nice and flat to go in my bag, big enough to also take pencils or pens if I'd like to.  The design is similar to the memory card case– using the same two colors of the leather spill and dark brown thread for stitching.
For stitching by hand, I always use a simple stitching clamp that I got online and waxed cotton thread. This time the holes were created by using a stitching chisel, which makes them more even and easy to stitch. I've learned that there are two ways to use a tool like this: either by pressing the tool all the way through the different layers of leather (what I do), or only perforating the top layer and then use an awl while stitching to get through the second layer. Online, you can see different styles and approaches but I'm not sure if it is mostly a personal preference, whether it's a slightly different tool, or other reasons come into play.
Slamming the tool all the way through the leather isn't silent work, and sharing a home/workspace with your partner sometimes demands adjustments. That's why I sometimes just prick the holes by using the awl. Then I can finish a project in complete silence 🙂 . Because I wasn't really aware of the differences between hammers/mauls/mallets, I have damaged some of my tools- a carpenter's hammer is clearly not made for stitching chisels. But by strange luck, I have found a two sides craft hammer in the woods. Really! I'm not joking, it was just there!
I finish the edges with a wooden edge slicker and Tokonole after sanding. For now, I haven't painted the edges. The last time I tried, it was a complete disaster with black paint everywhere except for the edges.