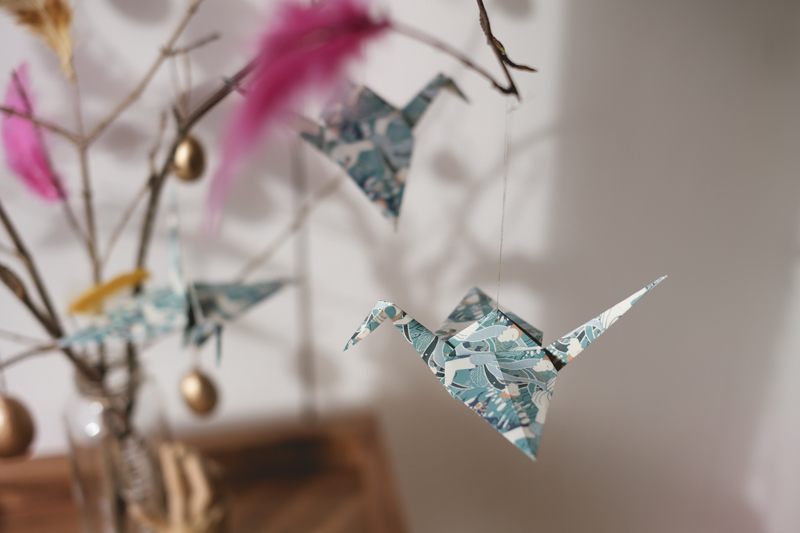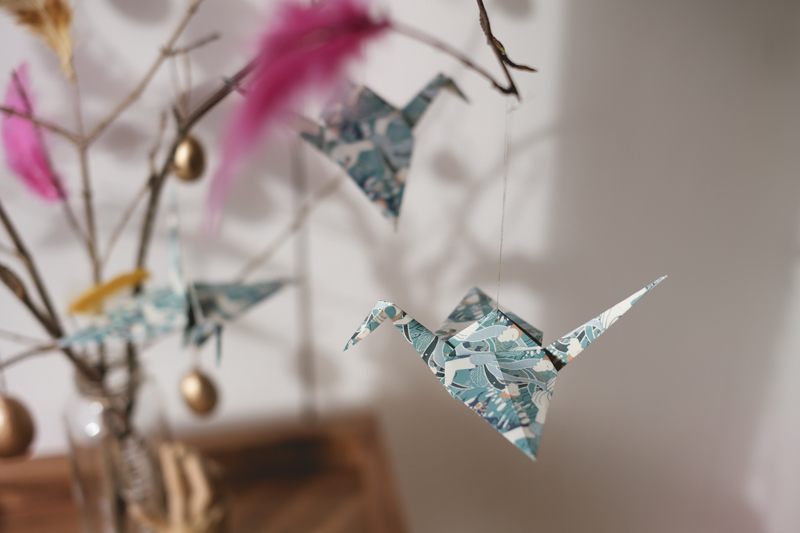 Happy Easter everyone!
Most years we dive into some delicious Belgian chocolates- we love the chocolate eggs from Leonidas! But this year, being far away from our home country, we've been very much into crafting and even invited a new Swedish habit.
We started simple, with a plan to paint some eggs, but as we talked about maybe creating an Easter tree together, I thought it would be nice to get the cranes involved as their typical sound represents the arrival of spring. I found a tutorial to create origami cranes and Joeri came up with the fantastic idea to print our own paper with my pattern design. We spent a whole evening folding birds while listening to some music and drinking spicy tea.
The next morning, I collected some branches from the garden. In Belgium, we traditionally use the beautiful curly Salix Matsudana but so far I haven't seen it anywhere here, so I used a mix of whatever I could find. To match but not overwhelm the pattern on the birds, we painted the eggs in warm gold and also added ocher and bright pink feathers to add different textures.
The Swedish tradition that we adopted is decorating the bush at the entrance of our garden with bright colored feathers — and ooh it looks so joyful! The nature that's surrounding us is only slowly awakening after a cold winter and the colors are still pale and sleepy, only a few buds have emerged yet. Perhaps I just keep the feathers until the leaves and flowers reach for the sunshine. After all, I had to remove the X-mas decoration to make room for Easter 🙂
As a treasure hunt – without eggs- we packed a picnic and went searching for some old quarries in the area together with the dogs. They don't care about rocks and traces of the past, but they sure enjoyed a sunny hike and all the smells of the forest 🙂