Weekend project: leather notebook cover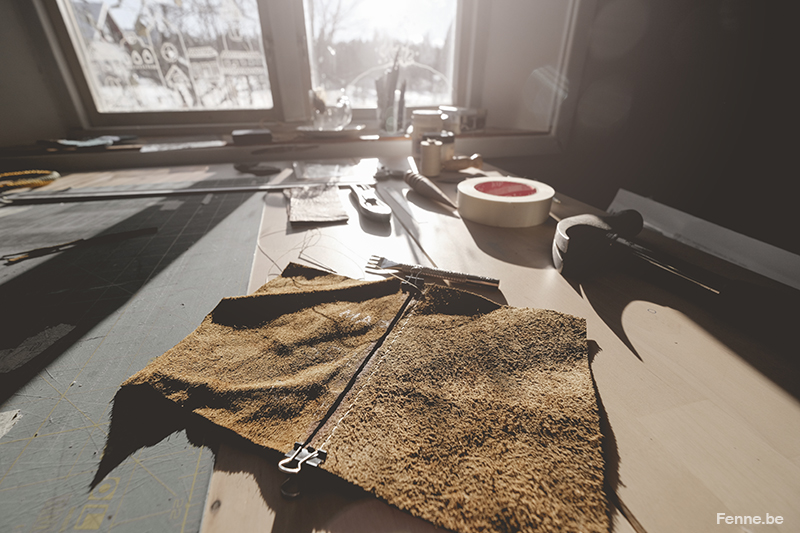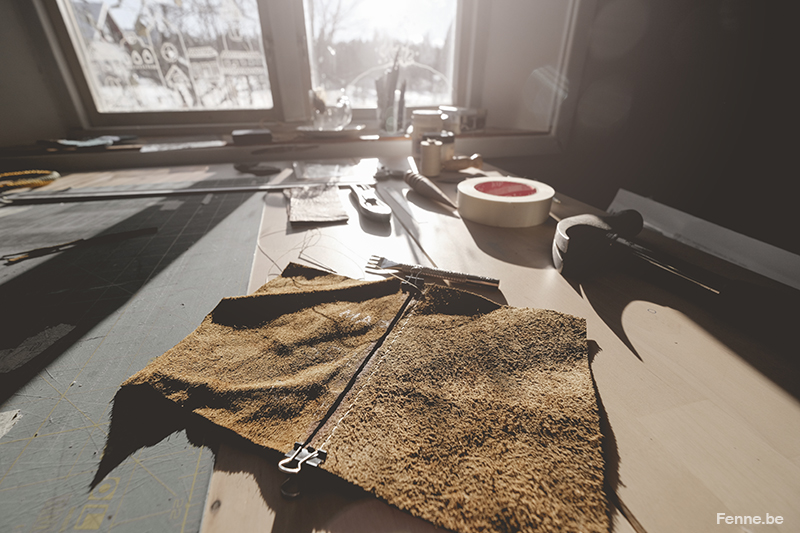 Weekends are for making a mess in the sun, trying new things, and testing new ideas. And on these beautiful days, I've been working with leather in the energizing morning light.
Recently, I bought a bag of leather spills, basically leftovers from real leatherwork- and perfect to practice and craft. The surface has some creases and scratches but I don't mind at all, as a complete beginner, it gives me just enough confidence to make the cuts for my projects.
My first project with this leather was small: leather hearts to attach to a dog collar. A fun DIY project for DOGvision as I wanted to do a Valentine-themed blog, but without all the pink fluff. It was a great way to learn how to create the holes for stitching with an awl (a pointy tool) and test some different spacings.
With a bit of practice, I felt ready for a slightly bigger project: a cover for a small notebook. At first, I wanted to make one for a sketchbook but I simply didn't have any big pieces. That's also why this cover is made of so many parts.
While working on this cover, my mind started to wander. All the steps, the measuring, it made me think of bookbinding, but with a different smell and feel. There is a certain complexity when you get started and you need some focus to get every step right and to put equal pressure on the stitches but at the same time it is incredibly rewarding and relaxing (well, as long as it goes well, I guess).
A few months ago, I created a camera strap with very minimal leather and tools, just to give it a try as crafting and learning is part of my corona-strategy :-). Still, I felt this inner conflict. This work felt nice, a hands-on craft with so much to learn but as a vegetarian (99% vegan), it also felt awry. That why I started looking into vegan leathers, Biothane, and even Pinatex (pineapple leather). All vegan leathers that I found (or at least according to the info that I read) contained some kind of plastic, making them even less eco-friendly than leather. And despite all the claims, according to some testers, the lifespan of these products is around 2-5 years. That makes vegan leathers a cheaper source for fast fashion, but it wouldn't allow the products to last. I tried some kind of washable paper but even with some dye on, it looked frumpy en dull. While real leather is obviously not vegan, I think it is – for now at least- a way to create products that can last much longer with proper care. Just like I'm working with the waste of a craftsman, others are re-using old handbags or restoring vintage products.
Another factor that I personally value is stepping into centuries of craftmanship and learning – even if it's just a bit- how things are constructed, what it takes to create a beautifully designed handbag or long-lasting saddle. A few years ago, I got some handmade leather collars for my dogs and in their maintenance, I found both satisfaction and a way to honor the craft of my friend. These collars are lasting many years and adventures now, soaking up memories. They became a treasure.
And oh yes, the bookbinding glue (the white pot on the left) didn't work so well 😀 – luckily I had a few drops of Pattex left. Just enough to keep some part together until stiched.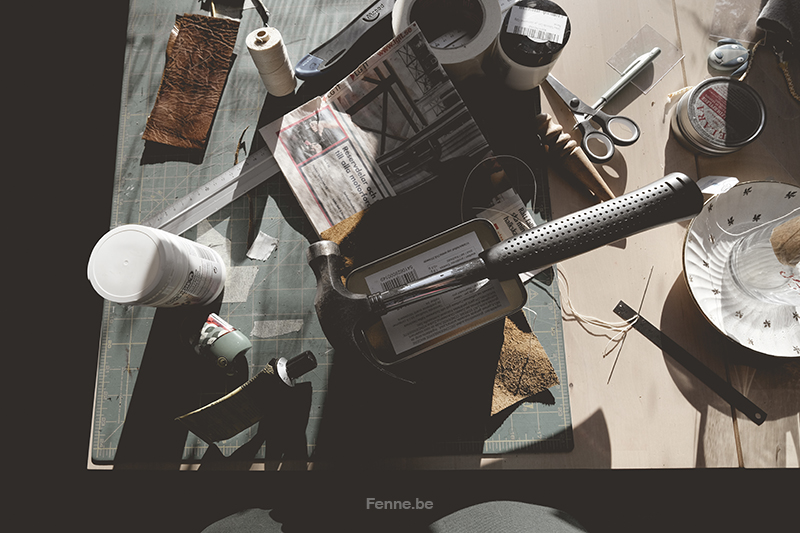 I've let it set under some books now, but I'll make a photo of the finished cover and share it.