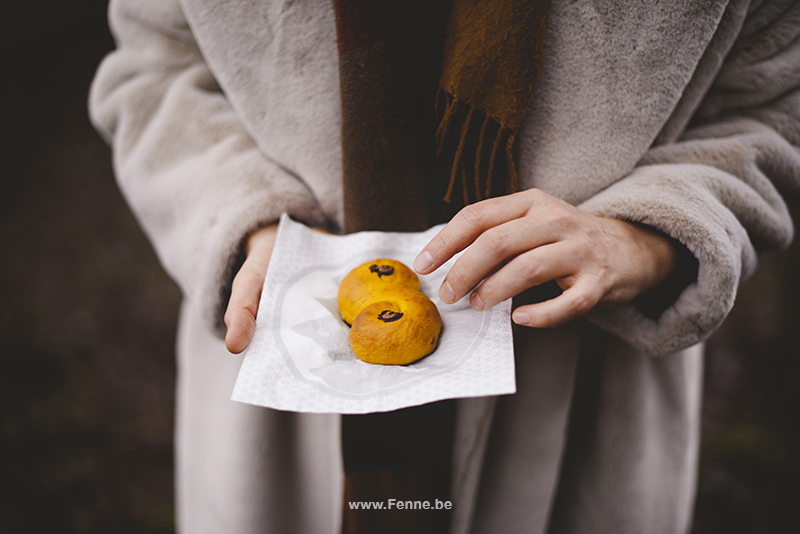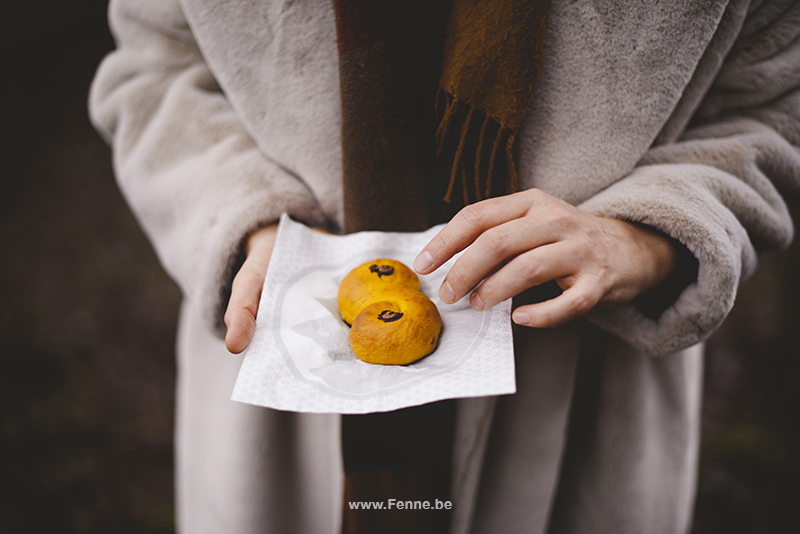 Lussekatter/lussebulle/ Lucia saffron buns,
Mostly eaten during the advent here in Sweden, especially on the 13th of December when Santa Lucia is celebrated. Girls in white dresses with red belts and crowns with candles on let their angelic voices rise toward the dark starry sky in a celebration of Saint Lucia and the light versus the longest nights- almost making the listeners forget the tragedy of torture and femicide of the martyrs.
Natten går tunga fjät
runt gård och stuva.
Kring jord som sol´n förlät,
skuggorna ruva.
//:Då i vårt mörka hus
stiger med tända ljus
Sancta Lucia, Sancta Lucia://
Natten är stor och stum.
Nu hör det svingar
i alla tysta rum
sus som av vingar.
//:Se, på vår tröskel står
vitklädd, med ljus i hår
Sancta Lucia, Sancta Lucia://
Mörkret skall flykta snart
ur jordens dalar.
Så hon ett underbart
ord till oss talar.
//:Dagen skall åter ny
stiga ur rosig sky.
Sancta Lucia, Sancta Lucia.://
Text: Arvid Rosén (1928)
Musik: Teodoro Cottrau
My first encounter with Lussekatter is a warm memory of baking and eating together with friends around a table lit by candles. The buns, however, we thought, could use a bit more love/adaptation to our taste buds.
We're however not entirely sure what they are supposed to be as they are often called Fika-bread while we expected something more like (Danish) pastries? We went for something that would support and lift the taste of the saffron.
Can you guess what we changed/added?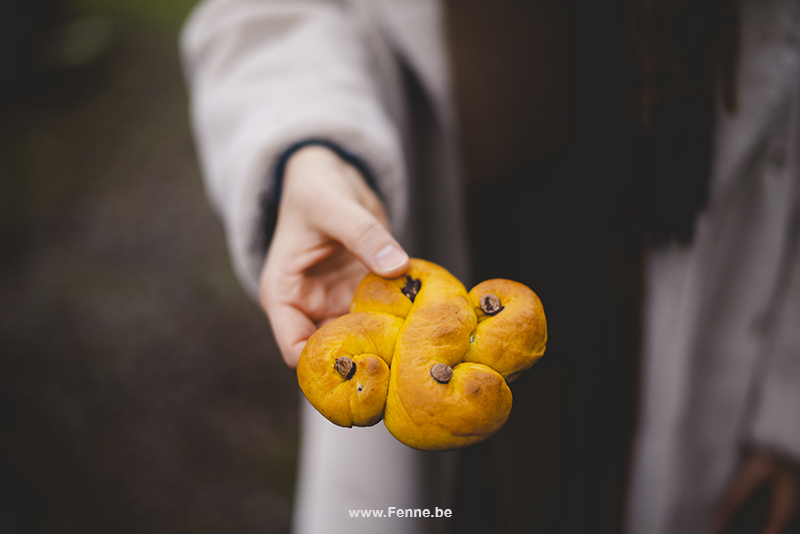 Belgianized vegan saffron buns:
-175g vegan butter (room temperature)
-50g yeast
– 2 bags of saffron
-2dl coconut sugar (or a bit more if you want them sweeter)
-5dl Almond milk (we used Oat milk)
– 1,5 teaspoon salt
– 15 dl flour
– raisins
+ our extra ingredient: Chocolate!
+ we also used a bit of organic vanilla paste.
How to make them:
1. Melt the butter in a small pan.
2. Mix the saffron with a bit of the sugar in a pestle and mortar.
3. Mix the saffron + sugar+ vanilla into the melted butter.
4. Add the milk and heat everything to a maximum of 37*C.
5. Crumble the yeast in a bowl and blend with a bit of the warm mixture until it dissolves,
6. Add the rest of the warm mixture + the sugar + salt
7. Add the flour in small bits while kneading the dough.
8. Knead the dough for 10min by hand/5min with a machine.
9. Let the dough rest and rise for 30-45min under a towel.
10. Drink some glögg while waiting ( but not too much because we have still some work to do).
11. Cut the dough into even amounts, we used about 50g/bun and mix in the chocolate.
12. Spread some flour out on the table and shape the dough into the cat-buns.
13. Put a raisin or chocolate (or both) in the curls of the bun.
14. All buns go on an oven tray covered with a baking sheet.
15. Cover the buns again with a tea towel and let them rest for 30-45min + preheat the oven to 225*C. (more glögg time!)
15. Paint some cream or milk on top of the buns (for the color)
16. Bake the buns in the oven for 8-10min (check often to avoid burning or dry buns)
I think the Lussekatter are a great fika treat to take on a cold winter hike. We eat them just like this or with a bit of butter.